Delivery and Cleaning
Lizzie gets started on the cleaning process
I don't have pictures of it as first delivered, sadly, because that would have illustrated the challenges. The main structure and pieces that had been in much use were deeply covered in a delightful black paté of oil and sawdust, which required scrubbing with acetone and occasional chiselling with a screwdriver to remove.
Fortunately Lizzie was up for that job, and here she is hard at it.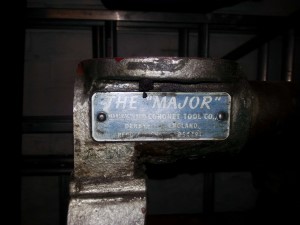 The Maker's Plate
One of the best pieces of news was that the original maker's plate had survived, which gave us the maker's name and the model. I'd have got nowhere at all with the research if that hadn't been there.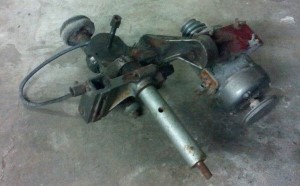 The motor assembly
In order to get it into a car, the motor had had to be dismounted, and by thunder it was heavy all on its' own. It lurked on the floor like a very heavy chunk of machinery, threatening dire back trouble to anyone who tried to lift it.
Miranda, Mark and Felix had (bless their cotton socks) photographed the power connections before dismantling, and sent me the photographs. These, hopefully, would guide me in wiring the motor back up when we were ready.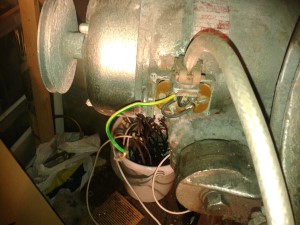 Wiring Reference Picture

It's been many years since I've seen wiring with Black for Live, Black again for Neutral, and Green-and-Yellow for Earth.

20th July 2015 and onwards