Banjos with T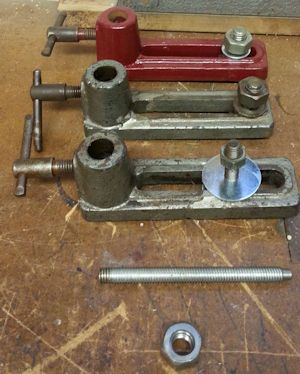 Banjos
Having done a bit of reading to improve my grasp of the concepts and anatomy of the machine, and more-or-less completed the triage of the boxes-o-bits and the cleaning and initial restoration of the parts that look like they belong, the time has come to get down to brass tacks and start cleaning up and restoring the core machine itself.
The first step to this, as I'd already started on it, was to gather and clean the available banjos. There are four; enough to hold either both the long and short T-Rests or some of the optional add-ons that remain unexplored.
The bolts for holding things into them (L in the picture) were just lumps of rust, and it took a fair bit of work with wire wool to get them back to metal - and a hammer to free the bars on the ends. A spash of WD 40 after that and they look OK. Not exactly shiny, but I'm not going for shiny - I'm going for workmanlike.
The lower two were painted after this photo, and look rather nice as they dry.
Each banjo has a 1/2" BSW bolt with a flat square plate that fits into the saddle below (saddles to come later!). One of those is missing, and I've tenatively substituted a spare bolt from Dad's stock (he had 1/2" BSW nuts but no bolts). I'm not sure if the washer underneath will fit into the saddle slot though...

The Long T-Rest
Supported by the banjos are the T-Rests, on which the turner rests his chisels to work. There's a small one for smaller stuff and bowls which is carried by one banjo, and a bigger one (which was attached when the machine arrived) with two pintles for longer pieces of work.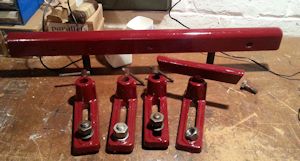 Banjos and T-Rests
Interestingly, this larger T-Rest has been extended with some nifty pieces of wood to make it about a quarter again as long. Apart from some lubricant on the pintles this didn't need much cleaning. I decided to paint the wooden part as well as the original T-Rest red, to make it look more part of the machine as a whole.
Painted and ready to rumble, they begin to give me a feel as to what the completed machine may one day look like...!
2nd November 2015