Introduction
What's in a Name?
The original session was (as described below) a commemeration of Traveller Day; but the adventure seed that it was grown from was called The Sternmetal Process. As we're continuing the adventure, I've renamed it back.
---
Traveller Day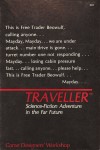 Traveller was first published on the first day of the Origins Game Fair on Staten Island, which was July 22, 1977. On July 22, 2017, Traveller will be 40 years old. Wherever you are (unless you're off-planet that day), raise a toast to Marc Miller and his Little Black Books, and play a game of Traveller if you can!

From the Traveller-RPG Facebook page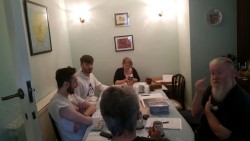 Dads and Descendants. The

Traveller Book

and

MegaTraveller

core books are just behind Aimo (the polite one)
It had been six years since I ran any Traveller and 18 months since I'd run anything at all. I knew I'd missed running a game but I hadn't realized how much until we hit the table and the creativity started to crackle.
We had a great table dynamic, three old, old friends and one of each of their offspring, and with the pregen characters handed out their personalities began to emerge. Then I turned to page one and the fun began.
With a break for lunchtime pizza, we put in a solid 7 hours gaming before the deadline, getting most of the way though the adventure I'd written - including to the bit where the Zombies escaped, much to no-one's surprise.
It must have gone fairly well as the players are already asking when we can play again and continue the story. Good ol' Traveller!
---
Saturday July 22nd 2017 was the 40th anniversary of the first publication of the Sci-Fi RPG Traveller, and to mark that occasion I ran a game of said system on that day. Because I'm that kind of GM.
It was created (appropriately from an old adventure seed by the late great Loren Wiseman) as a one-shot adventure, a bit of a classic Traveller caper, with rules pared close back to the Classic version as possible (with some exceptions). As we only had one day, pre-generated characters were provided, with opportunity to select some extra skills, personality, gender, motivation, clothing etc etc to personalize them to taste. I created 20 of them in case of casualties and variable player numbers, though in practice no-one was actually killed.
I had to finish for 7pm latest as I was invited to a friend's 50th party in the evening, so we started at 11am.
For those of you on FaceBook, there's some more detail on Traveller Day itself here though it's not connected with my game.
May Klik-Klak-Klatta-Bugga the God of Bouncing Plastic Shapes look kindly on your dice