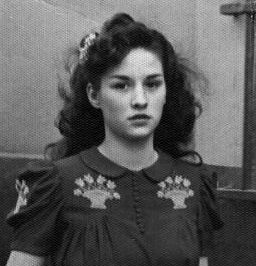 Maria Verletti
NPC / Arthur Whitehead
Before the War, Maria was a young medical student from Pinzolo in Northern Italy. Disgusted by the rise of the fascisti, she was already seriously considering activism when the war started and everything changed. She made contact with the local resistance pretty easily, and began working for them both as an agent and a medic.
A chance-meeting in Pinzolo brought her into contact with the team from Section M, and drew her unknowingly into the Secret War - though she was not witness to anything supernatural at that time. During that operation, she and Cyril Boston-Flint formed a playful but promising attachment.

Keeper Note: The whole romance thread went

poof

as Steve wasn't able to make the game at the time she reappeared. By the time he

did

sit down again, Arthur had managed to get her killed off!

When Section M contacted the Italian Resistance, looking for a partisan to work with the team on the Train Heist operation, Maria was the obvious choice - and she was waiting for the team when they parachuted in.

She and her partisans were instrumental in getting the team onto the train, and dealing with the majority of the German defenders, but the defences of the truck holding the Clypeus included a Shoggoth. This was Maria's first head-on encounter with the supernatural, and her nerve failed - she froze in place. When the others scattered, she stayed put, and the Shoggoth engulfed her and tore her to shreds.

The changes wrought by the team's trip to the dim past of Atlantis removed the entire train heist from history, and Maria is now once more alive. She remains in Italy, fighting the Fascists as a partizan.

Appearance: 5'4", 9st, Dark, sultry and very pretty, with dark intense eyes

.