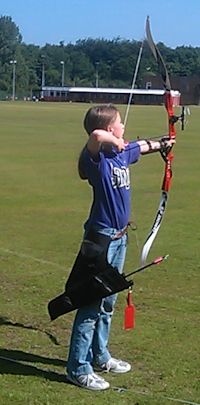 In 2010, Lizzie persuaded me to look into archery, and we located our local club, North Cheshire Bowmen, then located in Timperley. We did the Beginners' Course and were hooked, signing up pretty much straight away.
Over the subsequent years we've both drifted into longbow as our preferred style.
Mel and Maddie followed suit and joined in 2013, both showing much promise and the excercise doing Mel's frozen shoulder no end of good.
Click here for a list of shoots I'm hoping to make this season, or enjoyed last season.
Click here for a blog of the building of a set of wooden longbow arrows.