Great-grandchild of the sister's gibbon's friend of the nephew of the Campaign that Would Not Die, now in 3.25e
Møøse Trained By: Hugh Foster
Battle on the Roof
Tower at Lihard, 31st December 2100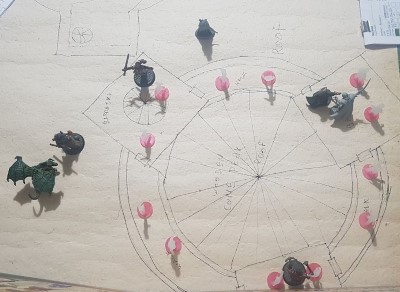 The top of the tower at Lihard - click it for larger image!
Baylock is atop the gatehouse tower, invisible
The remainder of the party arrange themselves such that - by various means - they are hovering over the tower, either invisible or above the radius of the torches lighting the whole top of the structure.
At a pre-arranged signal, they drop onto the parapet and the fighting begins!
Baggy, Baylock and Talian begin cutting down the cult soldiers - these seem rather better trained than the ones at the ruins of Cyrn Waethelin. Chambu, carrying a Symbol of Sleep cast onto his own breastplate, leaves a trail of comatose forms. His mace-work seems less effective.
Nazariel and Lynlir are hovering out of sight, and the sorceress begins to rain Magic Missiles down into the battle.
Talian leaps down from the cleared gate tower onto the east wall, and strikes left and right to drop two more soldiers. Baylock goes off the other side. Baggy methodically carves her way toward the north-east tower. Lynlir makes use of her lightning bolt breath weapon for the first time, blasting an unfortunate soldier clear off the wall.
Baylock charges into the gate tower room, intent on stopping any soldiers getting away down the stairs. Talian does the same with the NE tower as Baggy enters it from the other side. Nazariel, running short of targets accessible from the air, follows the paladin. Lynlir touches down on the east wall and shifts into her humanoid form, armed with half-spear and bow, breaking the morale of the few remaining soldiers on the wall who flee into the NE tower.
Baylock and Chambu likewise enter the SW tower from both directions and massacre the last opposition on that side. Baggy, Talian and Nazariel clear the NE tower, with the exception of one man who basically throws himself down the spiral stairs and flees towards the body of the building. While the others are disentangling themselves from their victims, Nazariel - still airborne - hurtles down the stairs after him, catching him up and kicking him to try and make him lose his balance.
At that point we parked it. Since then a variety of issues have prevented us meeting around a table again. With luck, this will get finished when we can once more.
| | | |
| --- | --- | --- |
| | Session Date: 26th October 2021 | |