Great-grandchild of the sister's gibbon's friend of the nephew of the Campaign that Would Not Die, now in 3.25e
Møøse Trained By: Hugh Foster
Lightning and Tellarans
Inbound
Minensal: 2 (early in the year, followed by the rune for "death")
Tzallis: 4 (last one recorded as early September 2100, just before the party wiped out the cultists there)
Thallith: 5 (up to this month)
Reital: 0 (several death runes, scored very deeply as if in serious irritation)
Narthal: 4
Varensen: 2
Belegond: 6
Old Empire: "Avoid!!"
The other is a list of shipments of the energy barrels;

Outbound to Lihard
Ten shipments of between 2 and 6 wagons with escort, dating from the startup to 2 weeks before current date.

Route is north to Kelorsal, then across the wilderness to Lihard; 300 & 700 miles, 60 days travel. Roughly, this means the last shipment is passing through Kelorsal at the moment; the previous one is somewhere south-east of Minensal
Cyrn Waethelin, 7th Nov 2100
The party continue to search the manor house. On the desk in the bedroom that was probably Daedoloth and Narbaloth's they find some interesting documents in Krultac
Concluding that the manor is completely checked, they move to the ruins of the Black Roofed Building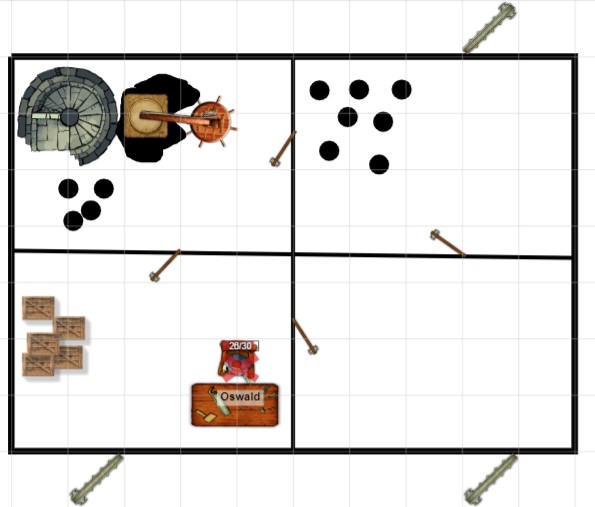 Ground Floor
The ground floor is burned to charred stubs. Light partitions appear to have once divided it into 4. Bent and burst empty energy barrels are about the only thing to have survived. There are stairs down and the remains of a derrick over a hole nearby.
Near the front door, the wreckage of a substantial desk lies overturned. Half pinned under it and chained to it lies a charred corpse, unarmoured, with a few charred papers in his pocket. A lucky guess (ahem!) identifies this as Oswald, late owner of the spellbook from the stores, killed when the barrels outside exploded under Nazariel's Fireball.
Feeling mildly guilty, the party descend cautiously into the cellar
Under the house is what was originally secret shrine to Varkar, one of the places where he had commanded his worship to begin in secret as he reached for Godhood. It reeks of power and evil, and an altar with his sigils occupies one wall; it seems dusty and unused, however.




The cellar under the Black Roof House

Several barrels wait for processing, two filled ones to another side , and a crate holds items to be sacrificed. In front of the altar is a stone cube, 10' square. A cavity in the side is made to accommodate a barrel. On top is an indentation. A big bucket of dust sits in a far corner.
Baggy decides to try and extract a sample of what's in the barrels. Locating a horn mug from the manor, she carefully opens the spigot-like attachment on top of one. Only by blind chance is she not in the way as with a deafening crack a stroke of lightning arcs across the room and blasts a big chunk out of the wall.
Baggy and Chambu destroy the altar, which is simple stone and breaks easily
They consider the centre object. It detects as magical, and they correctly conclude it's the magic item converter. It weighs around twenty tons however so they are not going to be able to take it away!
Cyrn Waethelin, 8th Nov 2100
Cyrn Waethelin, 9th Nov 2100, Morning



Arms of Tellare

Next morning they wake to a tremendous thunderstorm. Glancing from the warm beds to the hammering rain and matching their horses' speed to that of a heavy wagon, they are not inclined to set forth just yet.
Later that morning the lookout sees a group of twenty mounted men, armed and armoured, approching the Cyrn
The party climb the "walls" to observe them approach. A banner floats above the drenched soldiers, which Divulge and Baggy recognize as that of Tellare.
The leader hails the walls. Baylock asks who he is, and the leader names himself as Sir Krenton of Hambledown, Paladin of Diruc and officer in the Sledgehammer - the army of Tellare. Local villagers on the east side of the Cyrn - whom the garrison had avoided precisely because the Sledgehammer patrol those lands - had reported a huge column of smoke and he has come to investigate.
Baylock, Chambu and Baggy identify themselves in turn, and his attitude immediately improves on realizing he is talking to a cleric and paladin of a Good faith.
They explain the basics; an evil cult wants to resurrect Varkar and were based here. Baylock goes further, and explains they're chasing the wagon; the idea of doing that surrounded with nice expendable armoured poobs appeals to him. Krenton is sympathetic but unable to journey that far from the border without orders. Baylock taunts him for that and leaves the walls.
Baggy smooths this over and queries whether they will be allowed to cross Tellare to cut the wagon's route. Krenton assures them that they can. "I hope we meet in better - and drier - times," he says.
(Journey across Tellare really belongs in the next log)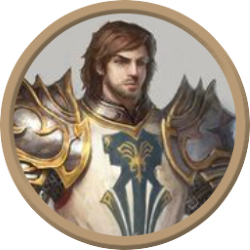 Krenton
| | | |
| --- | --- | --- |
| | Session Date: 13th July 2021; in Cyberspace! | |